Richa Graphics, Proffitt Dixon Partners, Jones Lang LaSalle and Clancy & Theys Construction team up to bring you an urban modern signage package.
The "Metal Wurx" Division under Richa Graphics is the company's latest service offering and one that not many in the printing and signage industries, or long-time clients, saw coming.  Founded in 1985, Richa Graphics has traditionally been known as a "Reprographics"...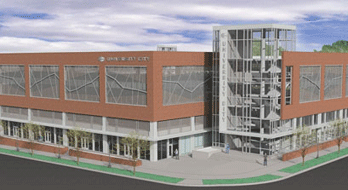 The CATS Blue Line Extension is the latest "big thing" happening in Charlotte.  The Blue Line Extension will cover the corridor from Uptown Charlotte at Seventh St. all the way up to the University City Area.  Richa Graphics was fortunate to be awarded the contract...
RICHA GRAPHICS NORTHEND
Signage | Design | Printing | Metal Würx
800 N College Street
Charlotte, NC  28206
(704) 331-9744
WE'RE READY TO HELP

855-880-3998
EMAIL US
RICHA GRAPHICS SOUTHEND
Printing
231 Tremont Ave.
Charlotte, NC  28203
(704) 944-0230