Richa's 2017 Midterm Report
A reflection of achivements in the first half of 2017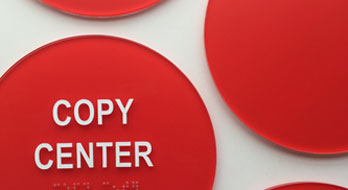 The past six months at Richa Graphics have been a roller-coaster with several projects hitting the ground, new projects being awarded and new contacts, clients, and partnerships continuing to bloom.  The overall review of the first six months of 2017 – a continuation of the high paced momentum we have built over the past 4 years.  Here's a quick summary of notable achievements and highlights we have experienced in the first half of 2017.
January
Coca-Cola: Phase 1 & Phase 2 Renovations Completed
Bank of America: Official preferred signage vendor for Bank of America.
Synchrony Financial: National signage vendor for Synchrony Financial.
February
Endev Laboratories: Installation of ADA and company branding for Endev, a dermatologic research company located in Research Campus of Kannapolis, NC.
Cedar Hill: Completed installation of the renovated office building at corner of Hill St & Cedar St.
March
CHI Synchrony Financial: Phase 2 renovations the for Chicago, IL office.
Cambridge Apartments: Masonry and illuminated monument sign at the property's secondary entrance, to match our masonry monument at the property's main entrance.  This project is located near Newport News, VA.
Legacy Village: First install mobilization into Charter Properties' apartment community in Mooresville.
Peyton Stakes: Made a final push to finish all pending signage in time for the property's grand opening. This project was our second in the Nashville, TN market.
April
Dunhill Hotel: Design, fabrication, and installation were turned around in a few weeks to coincide with the launch of the renowned hotel's new branding and logo.
Abbey Place: Our first big deployments of installation occured in April and we currently have illuminated monument signage in fabrication.
Blu at Northline: Awarded contract, in a competitive bid, for this new multifamily project going up along the LYNX Blue Line Corridor in North Charlotte.
Richa.com: The company website was redesigned and officially relaunched.
May
ORL Synchrony Financial: Phase 2 Renovations completed for the Orlando, FL location.
Element Barclay Apartment: Mobilizations to Wilmington, NC began with the monument signage and the leasing building code required signage installations.
Museum Tower Motorcade Wall: A 12ft tall by 20ft wide glow wall was installed in the motorcade at Museum Tower.  The entire system was designed, fabricated, and installed by our signage team.
June
Cam Newton Foundation: Richa Signage becomes an active partners in the Cam Newton Foundation's 2017 Charity Weekend.
Southpark Grill: Fabrication of etched art on to pure brass plates and a 5ft x 5ft illuminating graphic behind the receptionist podium at check-in.
Carillon Parking Garage: Richa Signage was awarded a contract to customize all elevator lobbies in the Carillon Deck, servicing 227 W Trade St.
Gateway Village Parking Garage: Richa Signage was awarded a turnkey contract to design, fabricate, and install a new signage package for the parking garage at Gateway Village.
RICHA GRAPHICS NORTHEND
Signage | Design | Printing | Metal Würx
800 N College Street
Charlotte, NC  28206
(704) 331-9744
WE'RE READY TO HELP

855-880-3998
RICHA GRAPHICS SOUTHEND
Printing
231 Tremont Ave.
Charlotte, NC  28203
(704) 944-0230